The Science Page

Experiment 1: The Cardboard Tube Test

Looking around the Internet, I would say that a penis size claim of 8" long and 2" across (6.4" girth) wouldn't be considered unusual.
So now find the core from a kitchen towel roll and measure it. 8" long and 2" across and it looks huge.
Check that nobody is looking and put that in your mouth.
Have you ever seen anything that big in a porn movie?
I know what every girl I've ever met would say, if presented with that. "Not with that you don't"

Toilet rolls are smaller, but do vary in size. Typically they are about 1.75" across. You can use this as a simple gauge. If your erection fits inside, you now have a novel new place to hold a toilet roll.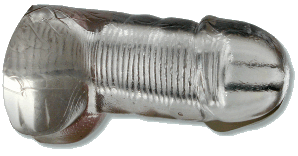 Experiment 2: Perception

An average sort of bloke would be 5' 10" tall. If he as just 10% taller, he would be 6' 5". Or 10% shorter is 5' 3". That's a very small range, in terms of %, but would be perceived as a great range in height.

Is the same true of penises? You do get freaky ones, but the vast majority fall within +-10%. So would a 6.5" long one, look very noticeably on the large size?

Most medical articles try to be reassuring by saying that the average penis is between 5 and 7 inches. Which is exactly the same as saying the average man is between 5 and 7 feet tall. Not very helpful.

There's a research project for somebody.

Experiment 3: Statistics by Google

Leaving aside proper medical research I turned to the worlds No.1 source of knowledge.
So I searched for 'I have a <n> inch penis', for numbers between 3 and 13".
The results are tabulated below and give an average of about 8".

Length

Results

3"

106K

4"

128K

5"

132K

6"

105K

7"

135K

8"

141K

9"

184K

10"

135K

11"

51K

12"

97K

13"

21K

Google (idea stolen from XKCD)

Experiment 4: Nudists

If you really want to see Mr (& Mrs) Average, then go to a nudist beach. There will be the occasional cocksure exhibitionist, but generally it will show you just how average a random selection of men really are.

In fact after a while you will probably stop feeling self concious about any part of your body.